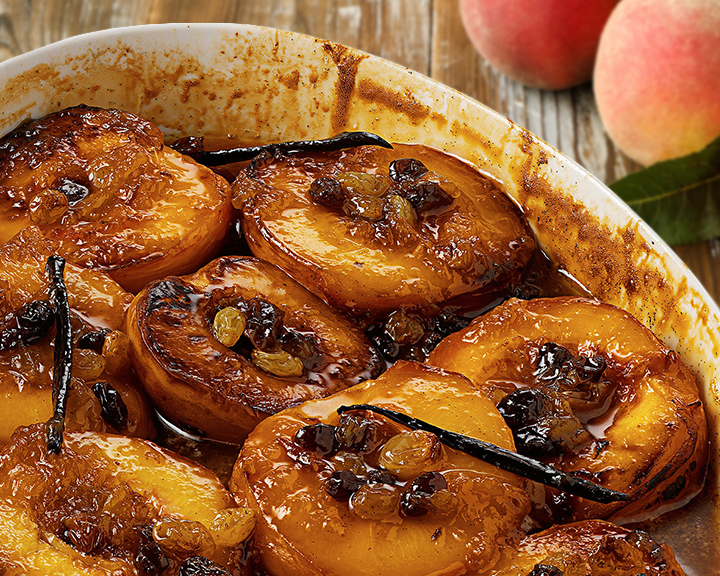 Baked Peaches with Golden Raisins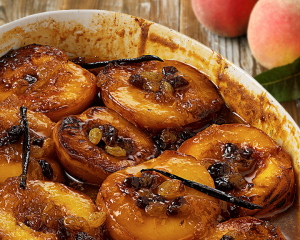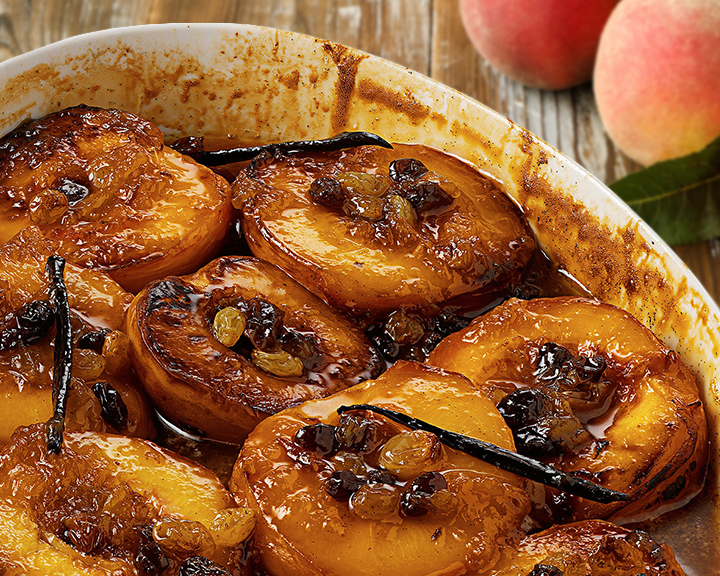 Yield

12

Serving Size

½ peach

Energy

120 cal
Ingredients
2 Tablespoons brown sugar
1 Tablespoon butter
1 Teaspoon vanilla
½ Cup honey
1 Teaspoon fresh lemon juice
Pinch of salt
1 Cup California golden raisins
6 firm ripe fresh peaches, pitted and halved
Procedure
1
Lightly grease a 9-inch baking dish; set aside.
3
Measure brown sugar, butter, vanilla, honey, lemon juice and salt into 1-quart saucepan. Over low heat, stir and heat until sugar is dissolved and mixture is syrupy.
4
Stir in raisins. Keep warm, but do not allow to boil. Arrange peaches in prepared baking dish with pit side up and pour syrup over all.
5
Bake, uncovered, at 350°F for 20 minutes or until peaches are just beginning to caramelize.
6
Serve warm, 2 halves per serving, topped with vanilla ice cream.
Nutrition Facts Per Serving

Serving Size

½ peach

Amount per serving

Calories

120

% Daily Value*

Total Fat

1 g

1.28%

Saturated Fat

0.5 g

2.5%

Trans Fat

0 g

Cholesterol

5 mg

1.67%

Sodium

15 mg

0.65%

Total Carbohydrate

30 g

10.91%

Dietary Fiber

2 g

7.14%

Total Sugars

27 g

Protein

1 g

2%

Calcium

13 mg

1%

Iron

0 mg

0%

Potassium

216 mg

4.6%