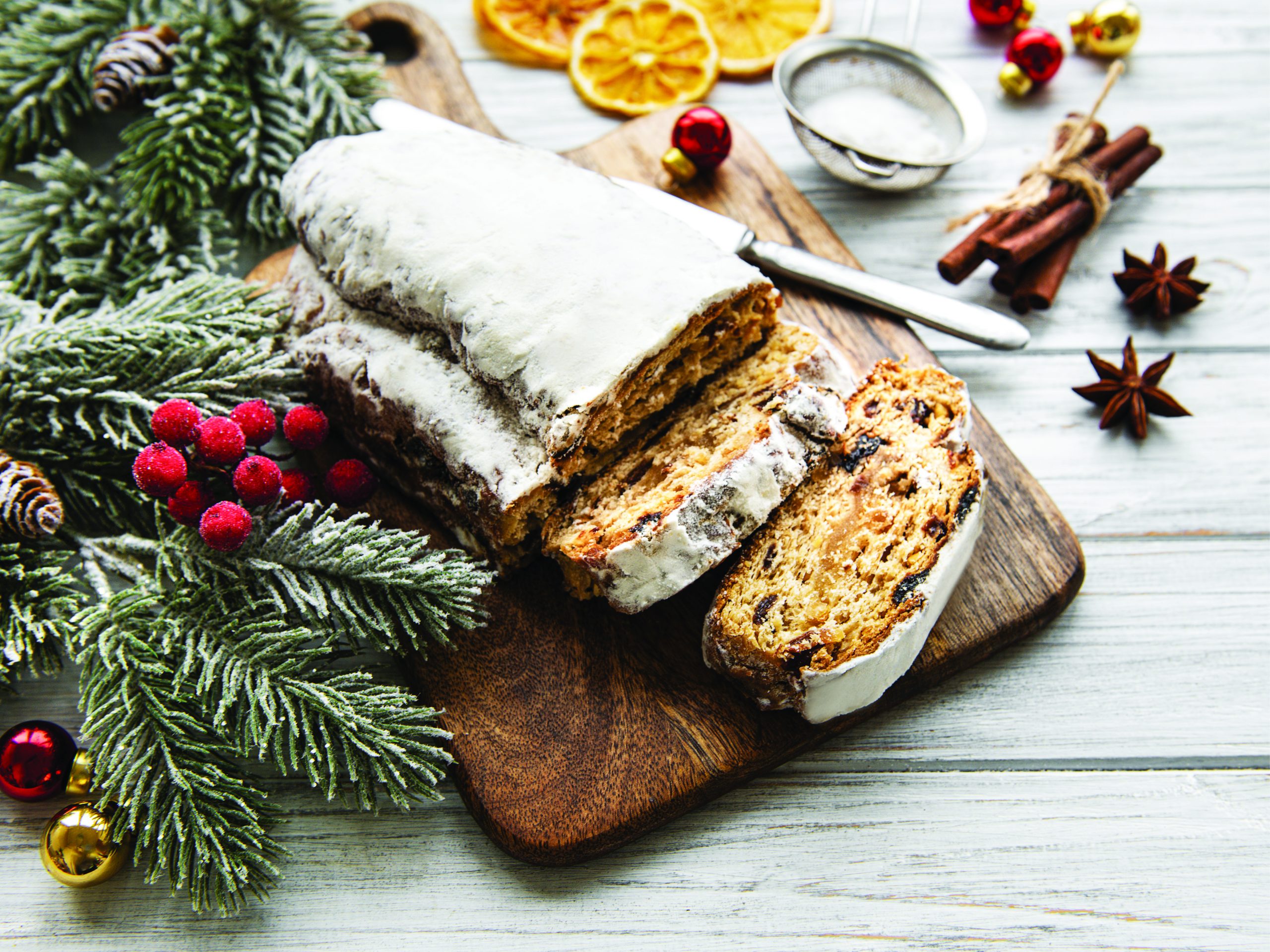 Candied Stollen
Ingredients
1 Cup California golden raisins
1/2 Cup mixed candied fruits
3 Tablespoons brandy or rum
1 package active dry yeast
2-1/2 to 3 cups flour; divided
1/2 Cup milk
1/3 Cup butter or margarine
1/4 Cup sugar
1/2 Teaspoon salt
2 eggs, beaten
2 Teaspoons grated lemon peel
1/3 Cup chopped blanched almonds, ground
Melted butter and sugar
Powdered sugar
Procedure
1
Combine raisins, fruits and brandy; let stand 1 hour or overnight. In mixing bowl, combine yeast and 1/2 cup of the flour; set aside. In saucepan combine milk, butter, sugar and salt; heat to lukewarm. Stir into yeast mixture; beat with electric mixer 2 minutes. Add eggs and peel; beat to blend well. Mix in brandied fruits, almonds and enough of the remaining flour to make a soft, non-sticky dough. Knead on floured board about 5 minutes until dough is smooth and elastic. Form into ball; place in greased bowl. Cover and let rise in warm place until almost doubled in bulk, about 1 1/2 hours.
Punch down; let rest 10 minutes. On floured board, roll dough to an 8×12-inch oval. Brush with melted butter; sprinkle with sugar. Fold dough in half lengthwise to within 1/2 inch of opposite side; press closed. Transfer stollen to greased baking sheet; curve ends slightly to form a crescent shape. Cover loosely with towel; let rise in warm place until almost doubled in bulk, about 45 minutes.
Bake in 375°F oven about 20 minutes until golden brown and crusty. Cool slightly; sprinkle with powdered sugar. Cool completely, then dust once again with sugar. Serve slices plain or toasted. To store stollen, wrap securely in plastic or foil.