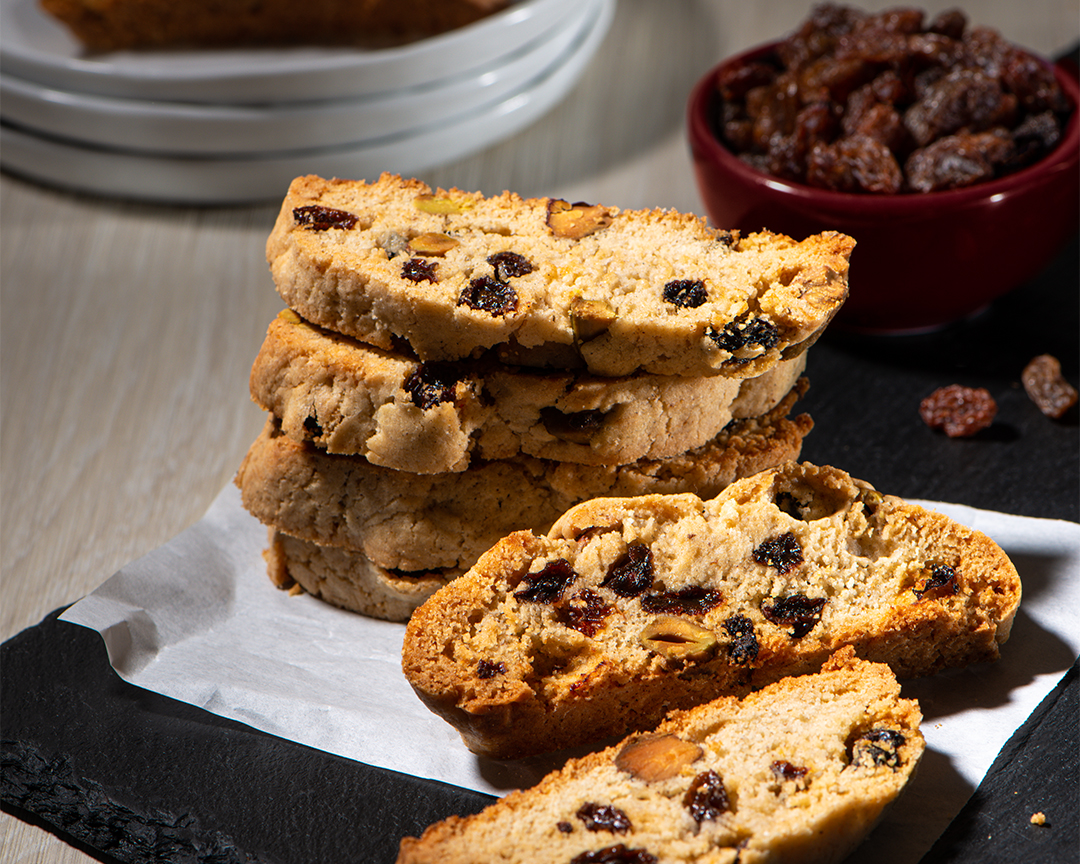 Pistachio Raisin Biscotti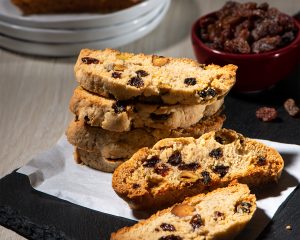 Biscotti might not be on your usual holiday baking list, but that's about to change! Regular pistachio is passé; pistachio RAISIN is the biscotti that will have people talking, in between bites! (Versatile California Raisins are the secret ingredient.)
Prep Time

25 min

Cook Time

30 min

Total Time

55 min

Yield

48 biscotti

Energy

140 cal
Ingredients
2 cups all-purpose flour
1 teaspoon ground cardamom
½ teaspoon baking powder
¼ teaspoon ground cinnamon
¼ teaspoon salt
1 cup granulated sugar
1/2 cup unsalted butter, softened
2 eggs
1 teaspoon vanilla extract
½ cup toasted pistachios
½ cup California raisins
Procedure
1
Total Time: 55 min (+ 40 min standing time)
Preheat oven to 350°F.  
In large bowl, whisk together flour, cardamom, baking powder, cinnamon and salt.  
In medium bowl, using handheld electric mixer, beat together sugar and butter until light and fluffy. One at a time, beat in eggs until well combined. Beat in vanilla.  
Stir eggs mixture into flour mixture and mix until dough just comes together. Stir in pistachios and raisins.  
Divide dough in half. Shape each half into a 14 x 2-inch log. Arrange on parchment paper–lined baking sheet, spacing at least 3 inches apart.   
Bake for 20 to 25 minutes or until lightly golden and top is firm to the touch (leave oven on). Let cool on wire rack for 10 to 15 minutes or until cool enough to handle.  
Using a serrated knife, cut logs on the diagonal into 1/2-inch slices and return to parchment–lined baking sheet, cut-side down and spacing at least 1/2 inch apart.  
Bake for 10 to 15 minutes or until firm and golden. Let cool completely on wire rack. Store biscotti in airtight container at room temperature for up to 1 week. 
Note: Substitute pistachios with almonds if preferred. 
Nutrition Facts Per Serving

24 servings per container

Amount per serving

Calories

140

% Daily Value*

Total Fat

6 g

7.69%

Saturated Fat

2.5 g

12.5%

Trans Fat

0.2 g

Cholesterol

25 mg

8.33%

Sodium

35 mg

1.52%

Total Carbohydrate

19 g

6.91%

Dietary Fiber

1 g

3.57%

Total Sugars

11 g

Protein

2 g

4%

Calcium

10 mg

0.77%

Iron

0.75 mg

4.17%

Potassium

75 mg

1.6%