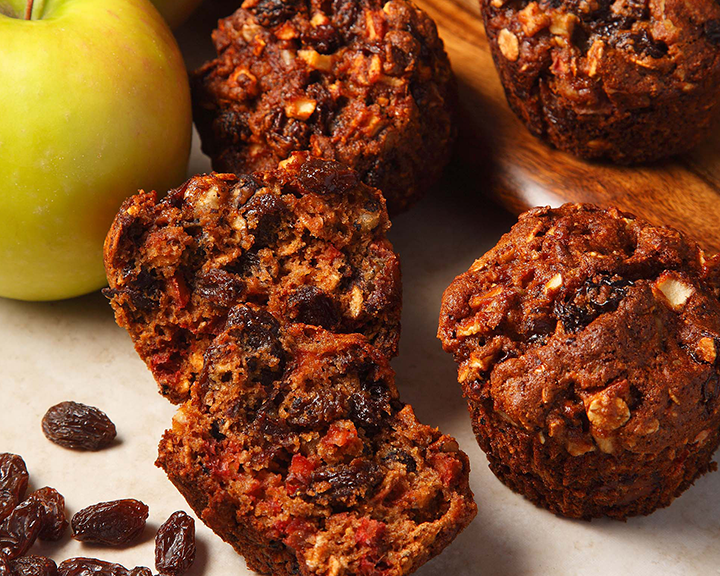 Raisin-Apple-Nut Muffins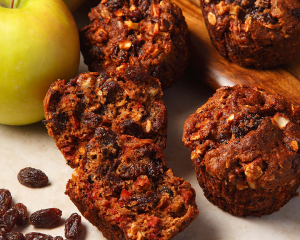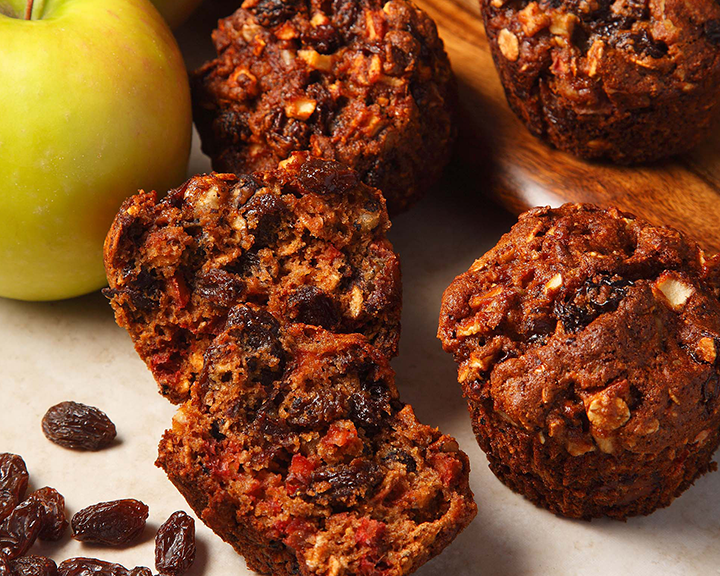 Yield

24 muffins

Energy

170 cal
Ingredients
1 Cup organic rolled oats
2 Cups whole wheat flour
⅓ Cup white sugar
2 Tablespoons baking powder
4 Teaspoons ground cinnamon
1 Teaspoon salt
1 Cup walnuts, chopped and lightly toasted
1¼ Cups Granny Smith apples; peeled, cored and chopped small
2¼ Cups California raisins, plumped in warm water
1¼ Cups very hot water
½ Cup maple syrup
2 Tablespoons canola oil
Procedure
1
Preheat oven to 375°F. Oil or line 24 muffin cups with paper liners; set aside.
2
Mix dry ingredients all together in large mixing bowl. Stir in walnuts, apple and drained raisins; mix well and set aside. Combine very hot water, syrup and oil in small bowl; mix well. Make well in centre of dry ingredients and add liquids. Quickly, but gently, mix just until flour is moistened. Fill prepared muffin tins ⅔ to ¾ full and bake at 375°F for 15 to 20 minutes or until toothpick inserted in centre comes out clean. Cool on wire rack or serve piping hot.
Note: Fructose granules may be found at supermarkets or heath food stores.
Nutrition Facts Per Serving

24 servings per container

Amount per serving

Calories

170

% Daily Value*

Total Fat

5 g

6.41%

Saturated Fat

0 g

0%

Trans Fat

0 g

Cholesterol

0 mg

0%

Sodium

240 mg

10.43%

Total Carbohydrate

31 g

11.27%

Dietary Fiber

3 g

10.71%

Total Sugars

7 g

Protein

4 g

8%

Calcium

47 mg

3.62%

Iron

1 mg

5.56%

Potassium

192 mg

4.09%