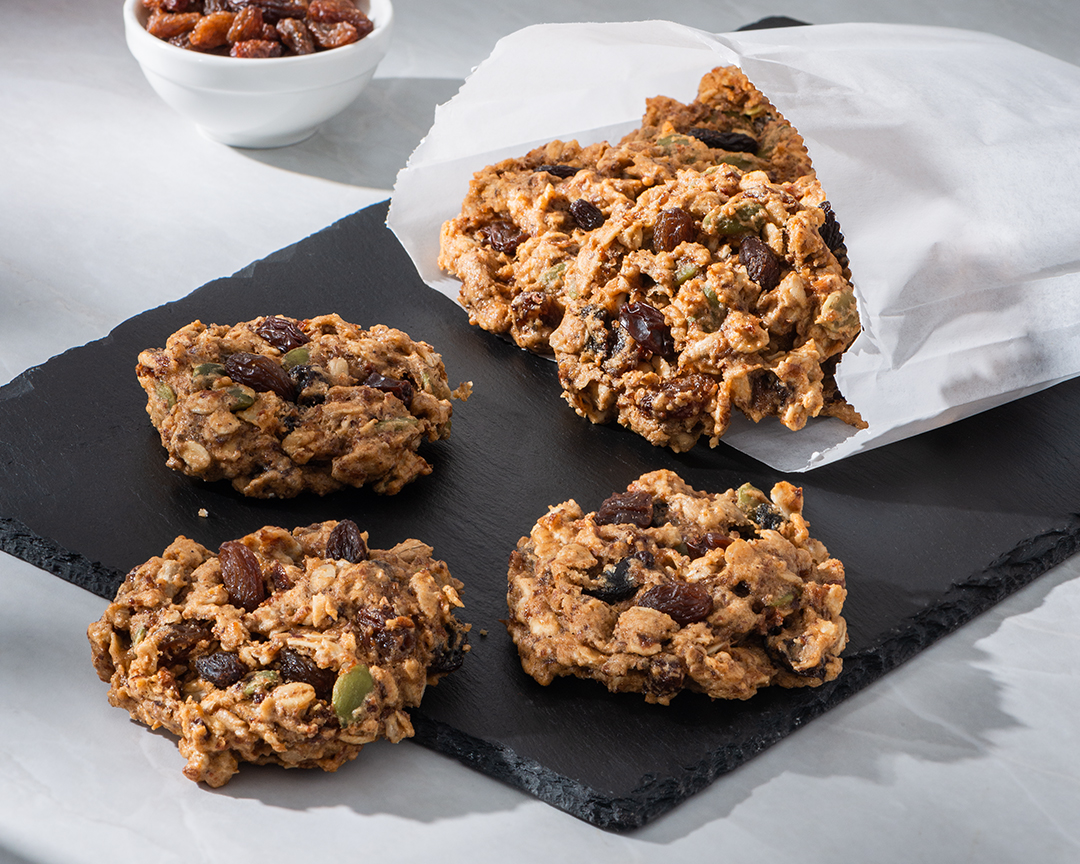 Raisin Muesli Cookies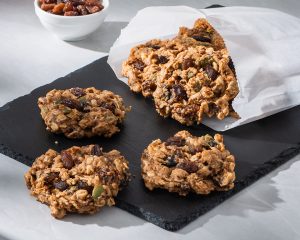 Make fibre fabulous with these naturally sweet cookies. Experiment with different types of seeds to change the flavours while keeping the natural fibre of cholesterol and fat-free California Raisins.
Prep Time

20 min

Cook Time

25 min

Total Time

45 min

Yield

24 cookies

Serving Size

1 to 2 cookies

Energy

110 cal
Ingredients
1 ½ cups California raisins, divided
¼ cup coconut oil
3 tablespoons liquid honey
1 teaspoon vanilla extract
1 egg
½ cup all-purpose flour
½ cup whole wheat flour
2 tablespoons ground flax seeds (flaxseed meal)
1 teaspoon ground cinnamon
1 teaspoon salt
½ teaspoon baking powder
¼ teaspoon baking soda
1 cup large-flake (old-fashioned) rolled oats
½ cup raw green pumpkin seeds (pepitas)
½ cup sunflower seeds
Procedure
1
Total Time: 45 min (+ 35 min standing time)
Preheat oven to 350°F.  
Into small saucepan set over medium-high heat, add 1 cup raisins and 1/3 cup water; bring to a boil. Reduce heat to medium. Cook, stirring occasionally, for 8 to 10 minutes or until most of the water has evaporated and raisins are very plump and softened. Let cool completely.  
Transfer raisin mixture to food processor and blend until smooth. Add coconut oil, honey and vanilla; pulse until blended. Add egg and pulse to combine.  
In large bowl, whisk together all-purpose flour, whole wheat flour, flax seeds, cinnamon, salt, baking powder and baking soda until combined. Stir in raisin paste mixture until incorporated. Stir in oats, remaining raisins, pumpkin seeds and sunflower seeds until coated. Let stand for 10 minutes. 
Scoop cookie dough by 2 tablespoonfuls onto parchment paper–lined baking sheet, spacing about 2 inches apart. Using fork tines, flatten slightly.  
Bake for 14 to 16 minutes or until edges are golden brown and tops are set. Let cool completely. Store in airtight container at room temperature for up to 5 days or freeze for up to 1 month. 
Note: Substitute sunflower seeds and pumpkin seeds with chopped walnuts and almonds if desired. 
Nutrition Facts Per Serving

24 servings per container

Serving Size

1 to 2 cookies

Amount per serving

Calories

110

% Daily Value*

Total Fat

5 g

6.41%

Saturated Fat

2.5 g

12.5%

Trans Fat

0 g

Cholesterol

10 mg

3.33%

Sodium

120 mg

5.22%

Total Carbohydrate

16 g

5.82%

Dietary Fiber

1 g

3.57%

Total Sugars

8 g

Protein

3 g

6%

Calcium

20 mg

1.54%

Iron

0.75 mg

4.17%

Potassium

150 mg

3.19%