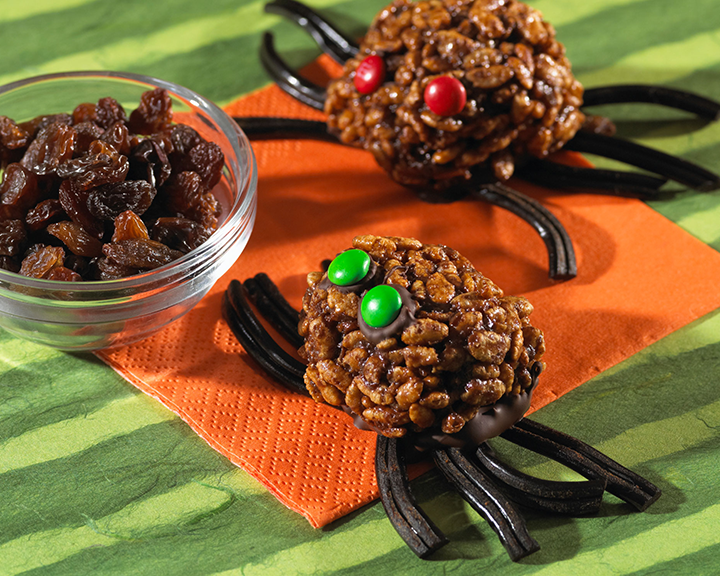 Spooky Raisin Spiders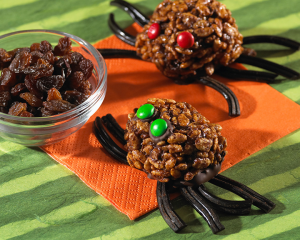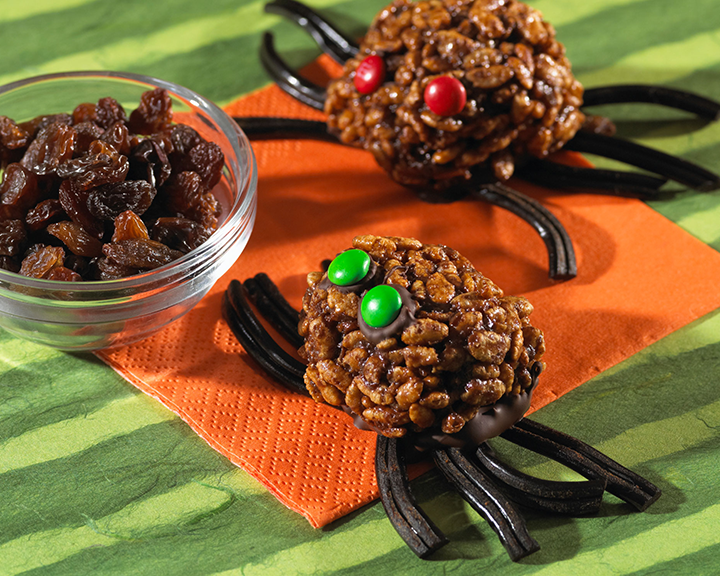 Prep Time

15 min

Yield

12 spiders

Serving Size

1 spooky spider

Energy

170 cal
Ingredients
1/2 Cup California raisins
1/3 Cup almond butter*
3 Tablespoons honey
3 Tablespoons unsweetened cocoa powder
13/4 Cups crispy brown rice cereal
1 Ounce semi-sweet chocolate, melted
96 tiny thin black licorice strips
2 Tablespoons Powdered sugar
24 small candies or frosting; for eyes
Procedure
1
Measure raisins, almond butter, honey, and cocoa powder into food processor bowl with metal blade and process until smooth.
Transfer to large bowl and stir in cereal by hand to mix completely.
Divide and shape into 12 balls; arrange on foil or wax paper-lined baking sheet.
Press down to flatten bottoms; turn and spread small amount of melted chocolate on each bottom and attach 8 small licorice pieces to form legs; chill until firm.
Stir few drops of water into powdered sugar and glue on candies or make eyes for spiders.
Note: Peanut butter makes good spiders, too.
Nutrition Facts Per Serving

12 servings per container

Serving Size

1 spooky spider

Amount per serving

Calories

170

% Daily Value*

Total Fat

2 g

2.56%

Saturated Fat

2 g

10%

Trans Fat

0 g

Cholesterol

0 mg

0%

Sodium

30 mg

1.3%

Total Carbohydrate

29 g

10.55%

Dietary Fiber

1 g

3.57%

Total Sugars

21 g

Protein

2 g

4%

Calcium

9 mg

0.69%

Iron

1 mg

5.56%

Potassium

156 mg

3.32%