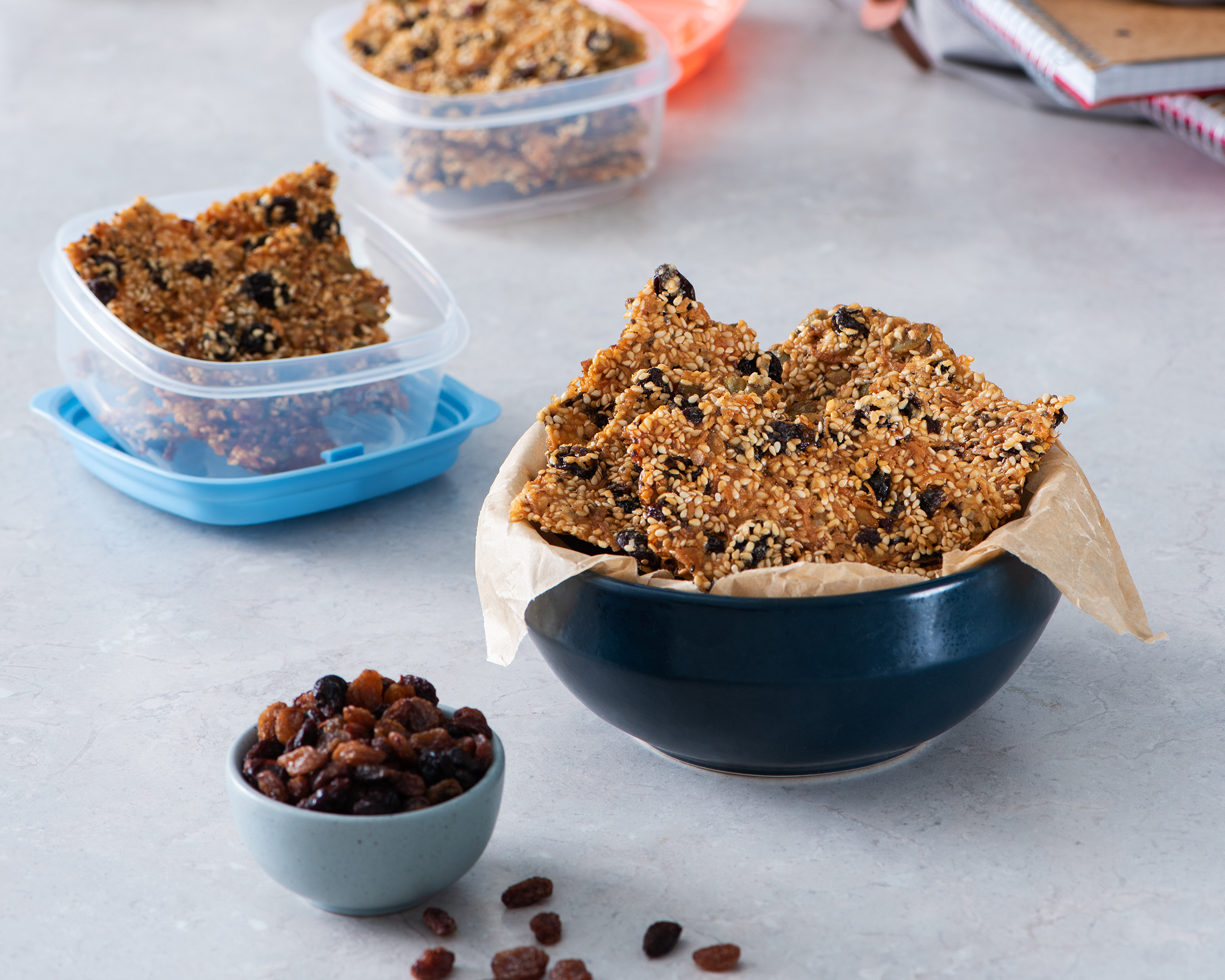 Super Seed Raisin Brittle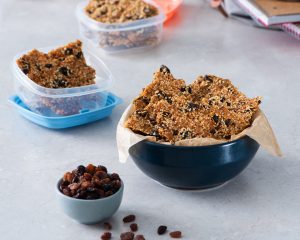 Raise the bar for brittle by combining the nutrition of pumpkin, sesame and chia with sea salt, blueberries and maple syrup – all set off by the sun-dried flavour pop of California Raisins. So delicious, kids won't realize it's nutritious!
Prep Time

5 min

Cook Time

25 min

Total Time

30 min

Yield

6-8 servings

Energy

410 cal
Ingredients
¾ cup California raisins
½ cup raw green pumpkin seeds (pepitas)
½ cup sesame seeds
¼ cup dried blueberries
¼ cup unsweetened shredded coconut
2 tablespoons chia seeds
½ teaspoon sea salt
¾ cup pure maple syrup
2 tablespoons coconut oil
1 teaspoon vanilla extract
Procedure
1
Preheat oven to 325°F.  
In large bowl, stir together raisins, pumpkin seeds, sesame seeds, dried blueberries, coconut, chia seeds and sea salt until combined. 
In small saucepan set over medium-low heat, stir together maple syrup and coconut oil; cook, stirring occasionally, for 4 to 6 minutes or until coconut oil is melted and maple syrup is runny and thinned slightly. Stir in vanilla. 
Drizzle maple syrup mixture over raisin mixture, stirring until well coated.  
Scrape mixture onto parchment paper–lined baking sheet. Place a second piece of parchment paper over top and press or roll out to 1/4-inch thickness.  
Bake, rotating halfway through, for 18 to 20 minutes or until golden and fragrant (mixture will still be soft but will harden as it cools). 
Break or cut into pieces. Store in airtight container at room temperature for up to 3 days.   
Note: Substitute pumpkin seeds with sunflower seeds, if preferred.
Nutrition Facts Per Serving

6 servings per container

Amount per serving

Calories

410

% Daily Value*

Total Fat

22 g

28.21%

Saturated Fat

8 g

40%

Trans Fat

0 g

Cholesterol

0 mg

0%

Sodium

190 mg

8.26%

Total Carbohydrate

52 g

18.91%

Dietary Fiber

5 g

17.86%

Total Sugars

40 g

Protein

8 g

16%

Calcium

100 mg

7.69%

Iron

3 mg

16.67%

Potassium

400 mg

8.51%