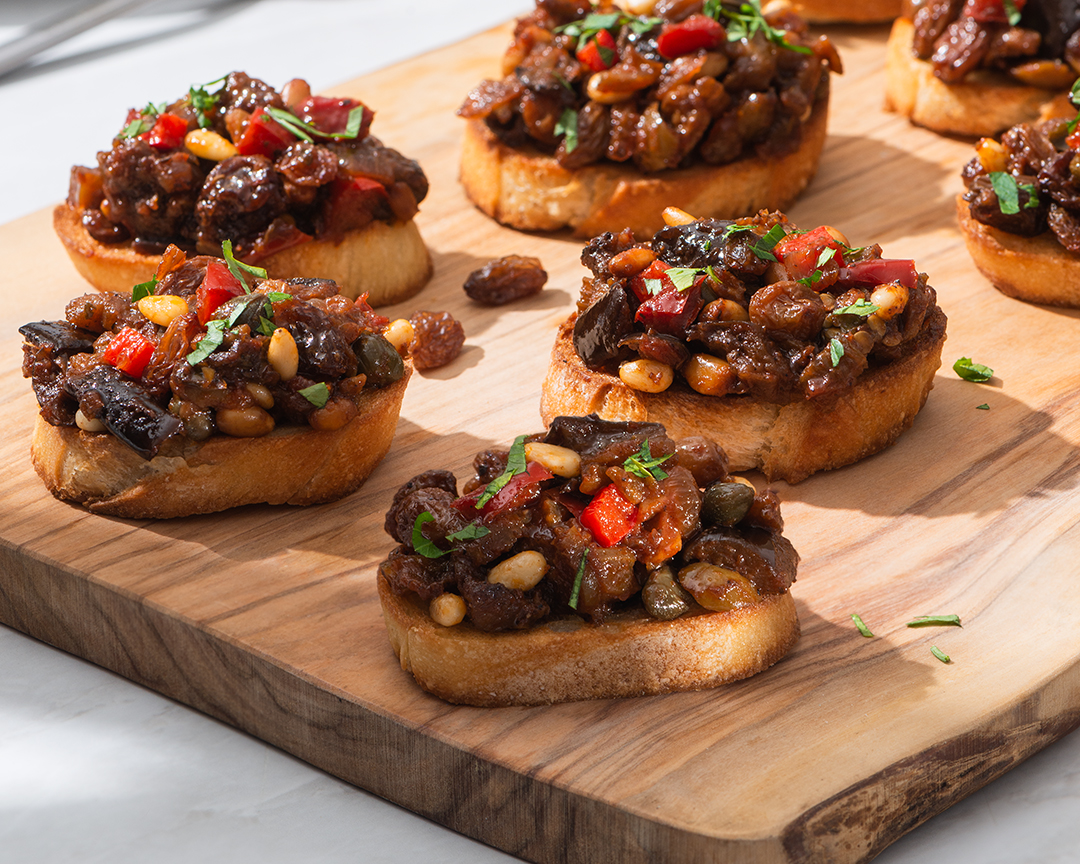 Caponata Crostini Bites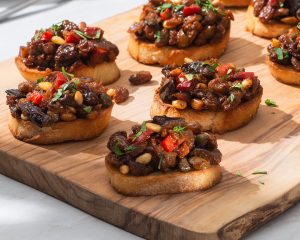 Surprise guests with a Sicilian sensation during the holiday season (or for any reason)! Golden eggplant and vegetables served on a baguette slice with California Raisins adding that all-natural sweet pop of flavour contrast. A vegetarian vision!
Prep Time

20 min

Cook Time

45 min

Total Time

1 hr 5 min

Yield

8 to 12 servings

Serving Size

2 to 3 crostini

Energy

130 cal
Ingredients
4 cups diced peeled eggplant
2/3 cup olive oil, divided
1 teaspoon salt, divided
1 teaspoon black pepper, divided
2 stalks celery, diced
½ cup diced red onion
½ cup diced red bell pepper
2 cloves garlic, minced
½ teaspoon dried oregano
¼ cup tomato paste
½ cup chopped pitted green olives
½ cup California raisins
1/3 cup red wine vinegar
¼ cup drained capers
¼ cup toasted pine nuts
1 tablespoon brown sugar
¼ cup thinly sliced fresh basil leaves
1 baguette, cut into 24 slices
2 tablespoons finely chopped fresh parsley
Procedure
1
Preheat oven to 425°F.  
In medium bowl, toss eggplant with 1/3 cup oil. Season with 1/2 teaspoon salt and 1/2 teaspoon black pepper. Transfer to (unlined) baking sheet.  
Bake for 17 to 20 minutes or until eggplant is golden and tender. Increase oven to broil. 
Meanwhile, into large skillet set over medium heat, add 2 tbsp oil. Add celery, onion, red pepper, garlic, oregano, remaining salt and remaining black pepper. Cook, stirring occasionally, for 5 to 8 minutes or until tender. Stir in tomato paste. Cook, stirring, for 1 minute.  
Stir in olives, raisins, vinegar, capers, pine nuts and brown sugar. Cook, stirring occasionally, for 3 to 5 minutes or until sugar has dissolved and liquid has evaporated.  
Stir in eggplant and basil. Cook, stirring occasionally, for 1 to 2 minutes or until well combined.  
Arrange baguette slices on foil-lined baking sheet in single layer and brush with remaining oil.  
Broil, turning once, for 4 to 6 minutes or until golden brown and toasted. 
Spoon caponata (warm or at room temperature) onto toasted baguette slices. Garnish with parsley.   
Note: Store caponata in airtight container in the refrigerator for up to 5 days. Add to pastas or sandwiches, or serve as a side dish.  
Nutrition Facts Per Serving

12 servings per container

Serving Size

2 to 3 crostini

Amount per serving

Calories

130

% Daily Value*

Total Fat

8 g

10.26%

Saturated Fat

1 g

5%

Trans Fat

0 g

Cholesterol

0 mg

0%

Sodium

290 mg

12.61%

Total Carbohydrate

15 g

5.45%

Dietary Fiber

1 g

3.57%

Total Sugars

4 g

Protein

2 g

4%

Calcium

10 mg

0.77%

Iron

1 mg

5.56%

Potassium

125 mg

2.66%