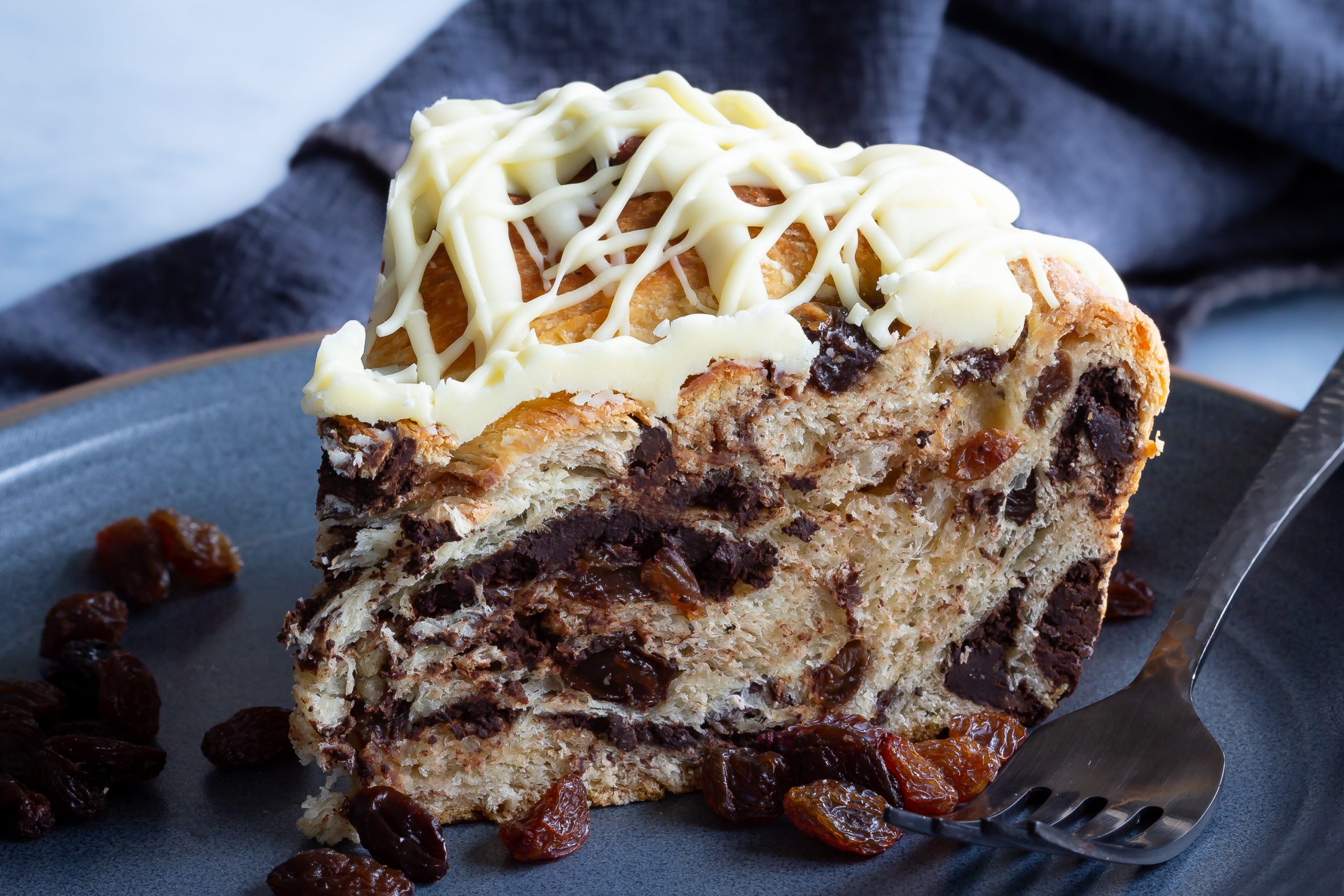 Chocolate Chai Tea and Raisin-Bourbon Challah
Winner: Best Raisin Bread
The Great California Raisin Baking Contest 2020
Created by Jennifer McConnell
A Chai tea scented, raisin studded egg bread with a dark chocolate and raisin-bourbon marmalade swirl.
Chocolate Chai Tea and Raisin-Bourbon Challah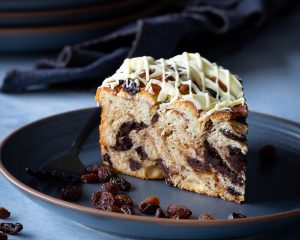 Ingredients
Bread
480g All Purpose Flour
225g Unsalted Butter
5g Salt
18g Dry Yeast
115g Honey
100g Plain Yogurt
2 Eggs
1 Bag Chai Tea
150g California Raisins
125g Dark Chocolate Callets*
60ml Milk
Raisin-Bourbon Filling
200g Thin Cut Seville Oranges (Hartley's) If Seville oranges are not available, use a jar of bitter marmalade, and omit 400g sugar.
150g California Raisins
400g Sugar
500ml Water
100ml Bourbon or Rye Whiskey
Chocolate Filling
90g Sugar
110g Cocoa Powder
125ml Milk
Glaze - White Chocolate Ganache
500g White Chocolate Callets*
125ml 35% Cream
*If callets are not available, substitute a coarsely chopped chocolate bar at the same weight
Procedure
Bread
1
Heat butter until melted, add milk and stir until combined.
Add contents of tea bag.
Whisk in yeast and honey then beat in eggs and yogurt.
Combine flour and salt, add yeast mixture and stir until a soft dough forms.
Add raisins and chocolate callets.
Knead until smooth. Cover and let proof for 30 minutes.
Punch dough down then let relax 10 minutes.
Divide into 2 portions then roll each half into a 9″ x 11″ rectangle.
Spread raisin-bourbon filling over one rectangle then repeat with chocolate filling.
Roll each piece of dough into a cylinder 1″ in diameter. Cut each roll in half vertically.
Grease one 8″ cake tin.
Cut one of the raisin-filled and one of the chocolate-filled rolls horizontally in half.
Twist each half into a spiral. Braid the twisted rolls together. Twist the braid into a circle then place in prepared pan.
Repeat with remaining dough. Let proof for 30 minutes.
Bake at 325F for approximately 30 minutes.
When cool, drizzle with warm white chocolate ganache.
Raisin-Bourbon Filling
2
Over medium heat, bring oranges, sugar, raisins and water to a simmer.
Simmer for 30 minutes stirring occasionally.
Add bourbon then let cool.
Chocolate Filling
3
Combine sugar, cocoa and milk in a small bowl until smooth.
Glaze - White Chocolate Ganache
4
Heat 35% cream until scalding.
Pour over white chocolate.
Let rest 5 minutes then whisk until smooth.