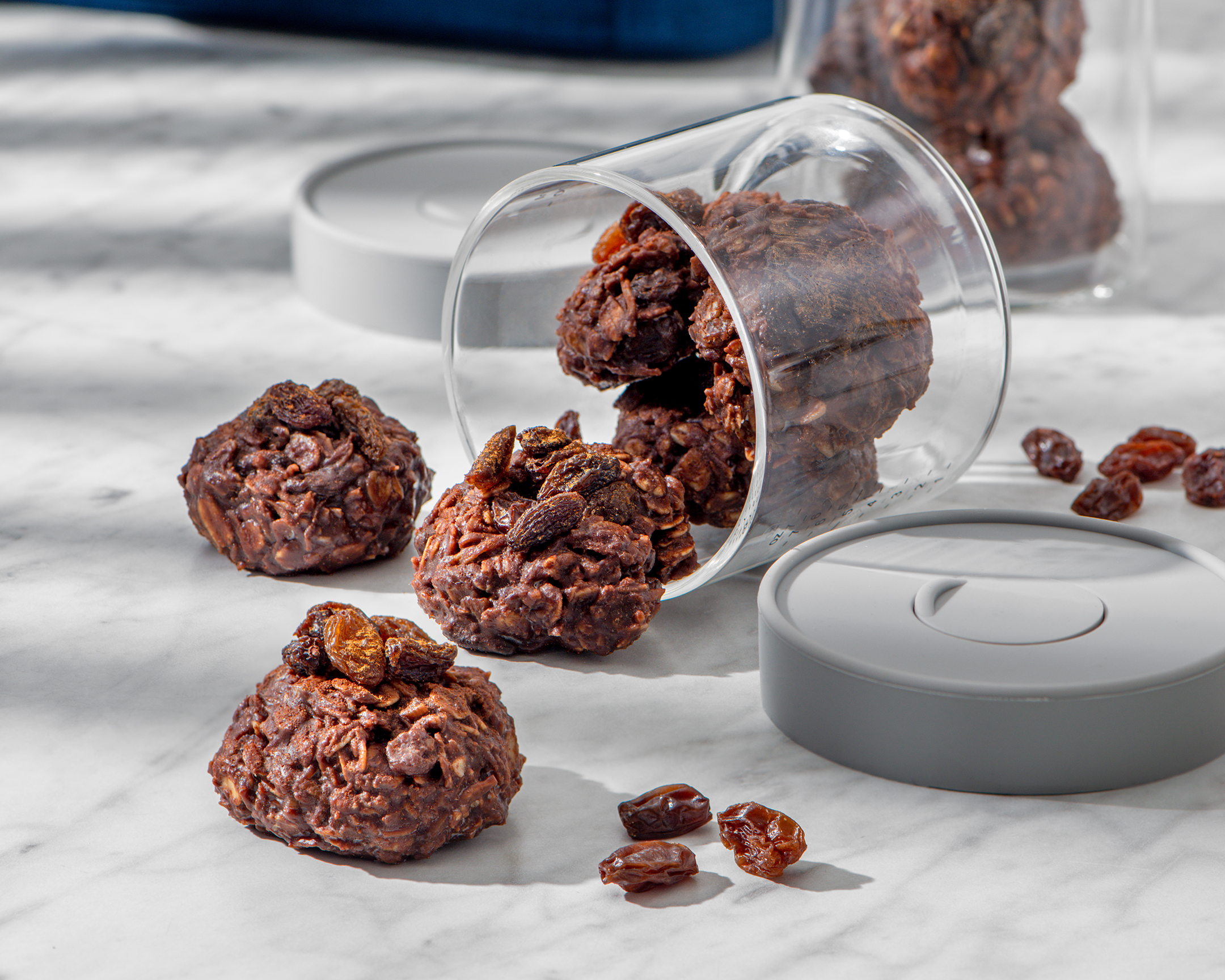 Chocolate Raisin Coconut Clusters
How do you make chocolate and coconut better? Add the energy-giving, naturally-sun-dried flavour of California Raisins to create a snack to stave off after-school hunger.
Prep Time

10 min

Cook Time

5 min

Total Time

15 min

Yield

12 clusters

Serving Size

12

Energy

180 cal
Ingredients
½ cup granulated sugar
¼ cup unsalted butter
¼ cup unsweetened cocoa powder
¼ cup heavy or whipping (35%) cream
¼ teaspoon + pinch ground cinnamon
¼ teaspoon salt
1 teaspoon vanilla extract
1 cup large-flake (old-fashioned) rolled oats
½ cup shredded unsweetened coconut
¾ cup California raisins, divided
Procedure
1
Total Time: 15 min (+ 25 min standing time)  
In medium saucepan set over medium-high heat, combine sugar, butter, cocoa powder, cream, 1/4 teaspoon cinnamon and salt; bring to a boil, stirring occasionally. Boil for 1 minute, stirring frequently. Stir in vanilla. Remove from heat.   
Stir in oats and coconut until well combined. Fold in 1/2 cup raisins. Let cool slightly.  
Scoop 2-tablespoon mounds and arrange on parchment paper–lined baking sheet. Garnish with remaining raisins and dust with remaining cinnamon. Let stand for 20 to 30 minutes or until set and cooled completely. Store in airtight container at room temperature for up to 3 days.    
Note: Substitute ground cinnamon with gingerbread spice or pumpkin pie spice for variation.
Nutrition Facts Per Serving

12 servings per container

Serving Size

12

Amount per serving

Calories

180

% Daily Value*

Total Fat

9 g

11.54%

Saturated Fat

6 g

30%

Trans Fat

0.2 g

Cholesterol

15 mg

5%

Sodium

55 mg

2.39%

Total Carbohydrate

25 g

9.09%

Dietary Fiber

3 g

10.71%

Total Sugars

14 g

Protein

2 g

4%

Calcium

20 mg

1.54%

Iron

1 mg

5.56%

Potassium

150 mg

3.19%