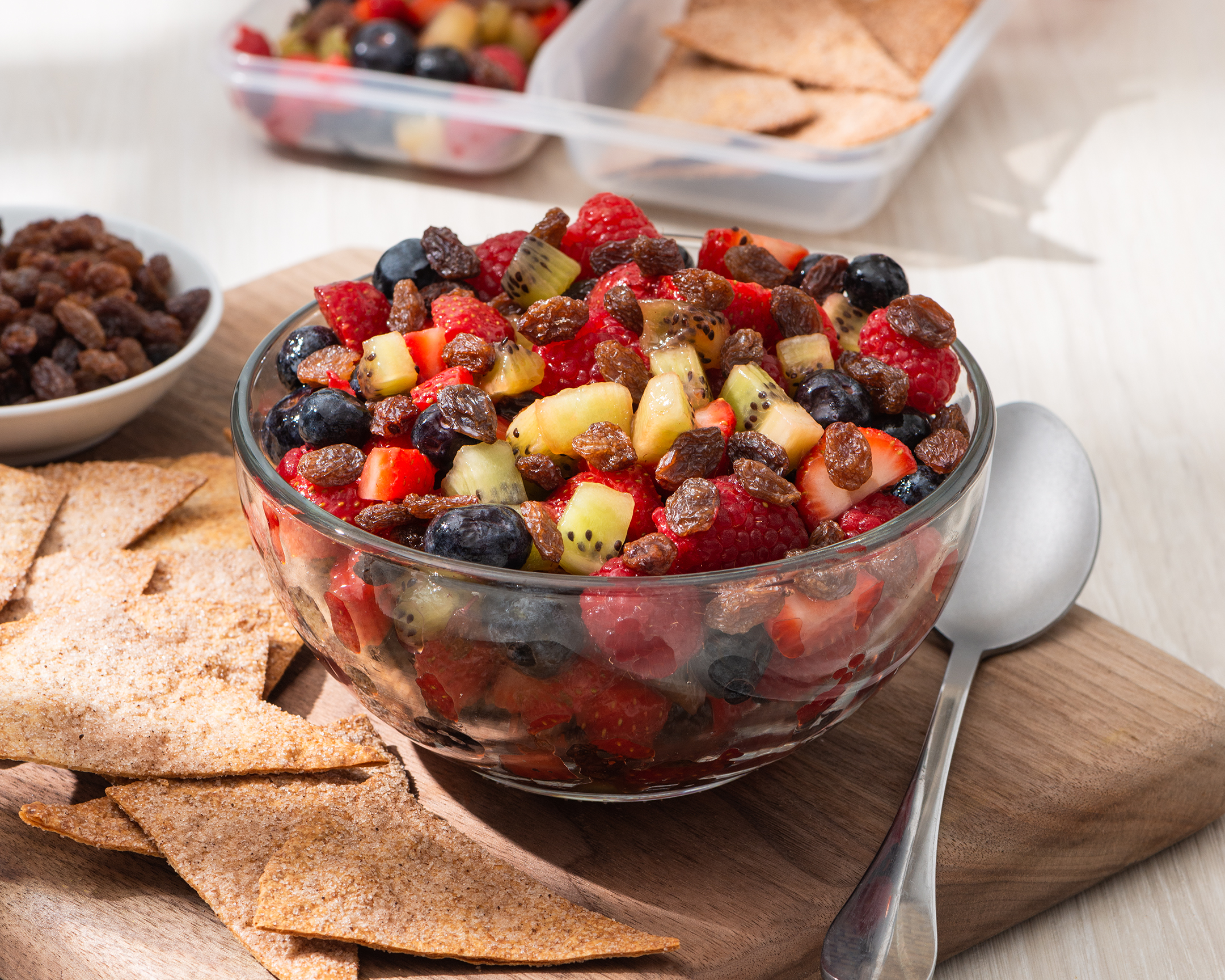 Fruit Salsa With California Raisins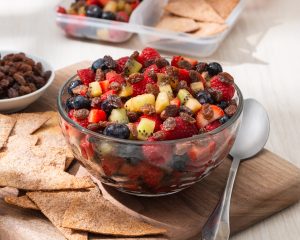 Cinnamon-sugar tortilla chips and a surprising fruit salsa – a sweet treat with a fruit twist that's perfect for all ages and snacking occasions. The twist? Including Canada's favourite dried fruit, California Raisins.
Prep Time

15 min

Cook Time

15 min

Total Time

30 min

Yield

6-8 servings

Energy

330 cal
Ingredients
6 whole wheat tortillas (8 inches)
3 tablespoons butter, melted
3 tablespoons granulated sugar
½ teaspoon ground cinnamon
1 kiwi, peeled and diced
1 cup diced strawberries
½ cup blueberries
½ cup California raisins
½ cup raspberries
2 tablespoons strawberry jam
1 teaspoon freshly grated lime zest
1 tablespoon freshly squeezed lime juice
1 teaspoon vanilla extract
Procedure
1
Total Time: 30 min (+ 20 min standing time) 
Arrange oven racks in top and bottom thirds of oven. Preheat oven to 350°F.  
Stack tortillas; cut into 8 wedges. Transfer to large bowl.  
Drizzle with melted butter; stir until coated. Arrange in single layer on 2 large parchment paper–lined baking sheets.  
In small bowl, stir together sugar and cinnamon. Sprinkle over tortilla wedges. 
Transfer baking sheets to top and bottom thirds of oven. Bake, switching and rotating pans halfway through, for 12 to 15 minutes or until crisp and lightly golden brown. Let cool completely. 
In medium bowl, toss together kiwi, strawberries, blueberries, raisins and raspberries. Stir in strawberry jam, lime zest, lime juice and vanilla until well coated. Let stand for 5 to 10 minutes or until flavors are married.  
Serve cinnamon-sugar tortilla chips with fruit salsa for dipping. 
Notes: Substitute jam with your favorite preserves.  
Substitute fruit with seasonal fruit as desired. Add pineapple, peaches, apples, cherries or plums.  
Nutrition Facts Per Serving

6 servings per container

Amount per serving

Calories

330

% Daily Value*

Total Fat

11 g

14.1%

Saturated Fat

6 g

30%

Trans Fat

0.3 g

Cholesterol

15 mg

5%

Sodium

320 mg

13.91%

Total Carbohydrate

53 g

19.27%

Dietary Fiber

8 g

28.57%

Total Sugars

23 g

Protein

6 g

12%

Calcium

150 mg

11.54%

Iron

2 mg

11.11%

Potassium

350 mg

7.45%