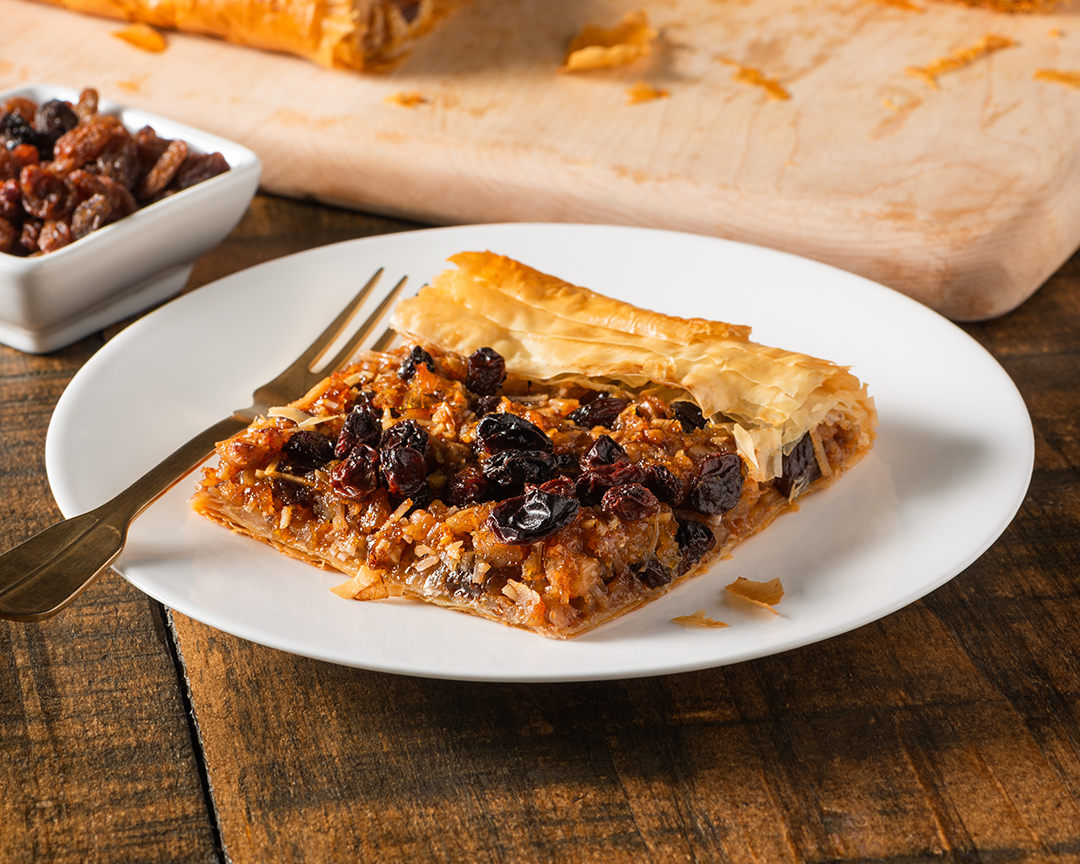 Lemon Walnut Raisin Galette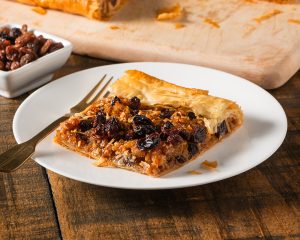 You don't have to spend a lot to eat a rich dessert. Here's a French recipe favourite that combines the flavours of lemon and walnut with the natural flavour of California Raisins. There may be plenty to go round, but it will disappear fast!
Prep Time

35 min

Cook Time

35 min

Total Time

1 hr 10 min

Yield

12 servings

Energy

300 cal
Ingredients
1 lemon
1 cup apricot spread
2 teaspoons ground cinnamon
2 teaspoon vanilla extract
Pinch salt
1 ¼ cups California raisins, divided
1 cup finely chopped walnuts
½ cup unsweetened shredded coconut
8 sheets phyllo dough (15 x 10 inches)
1/3 cup unsalted butter, melted
2 cups low-sugar whipped topping
Procedure
1
Total Time: 1 hr 10 min (+ 15 min standing time) 
Place oven rack in lower third of oven. Preheat to 375°F.  
Chop whole lemon into 1-inch chunks; remove seeds. Transfer to food processor; pulse until finely ground. Add apricot spread, cinnamon, vanilla and salt; pulse until blended.  
Transfer lemon mixture to large bowl. Stir in 1 cup raisins, walnuts and coconut. 
Arrange 1 phyllo sheet on parchment paper–lined baking sheet (refrigerate remaining phyllo, covered with damp clean kitchen towel). Brush lightly with melted butter. Cap with another phyllo sheet, brushing with more butter. Repeat layering with remaining phyllo sheets and brushing with more butter.  
Spoon lemon filling into center of phyllo layers, leaving 2-inch border. Fold edges of phyllo up and over filling but leaving center exposed. Brush edges of tart with remaining butter.  
Bake for 35 to 40 minutes or until phyllo is golden brown and filling is bubbling. Let cool for 15 to 20 minutes on wire rack.  
Serve tart warm or at room temperature. Cut into squares and serve with dollop of whipped topping. Sprinkle with remaining raisins.  
Note: Dust tart with confectioners' (icing) sugar if desired. 
Nutrition Facts Per Serving

Amount per serving

Calories

300

% Daily Value*

Total Fat

16 g

20.51%

Saturated Fat

8 g

40%

Trans Fat

0.3 g

Cholesterol

15 mg

5%

Sodium

100 mg

4.35%

Total Carbohydrate

41 g

14.91%

Dietary Fiber

4 g

14.29%

Total Sugars

21 g

Protein

2 g

4%

Calcium

75 mg

5.77%

Iron

1.75 mg

9.72%