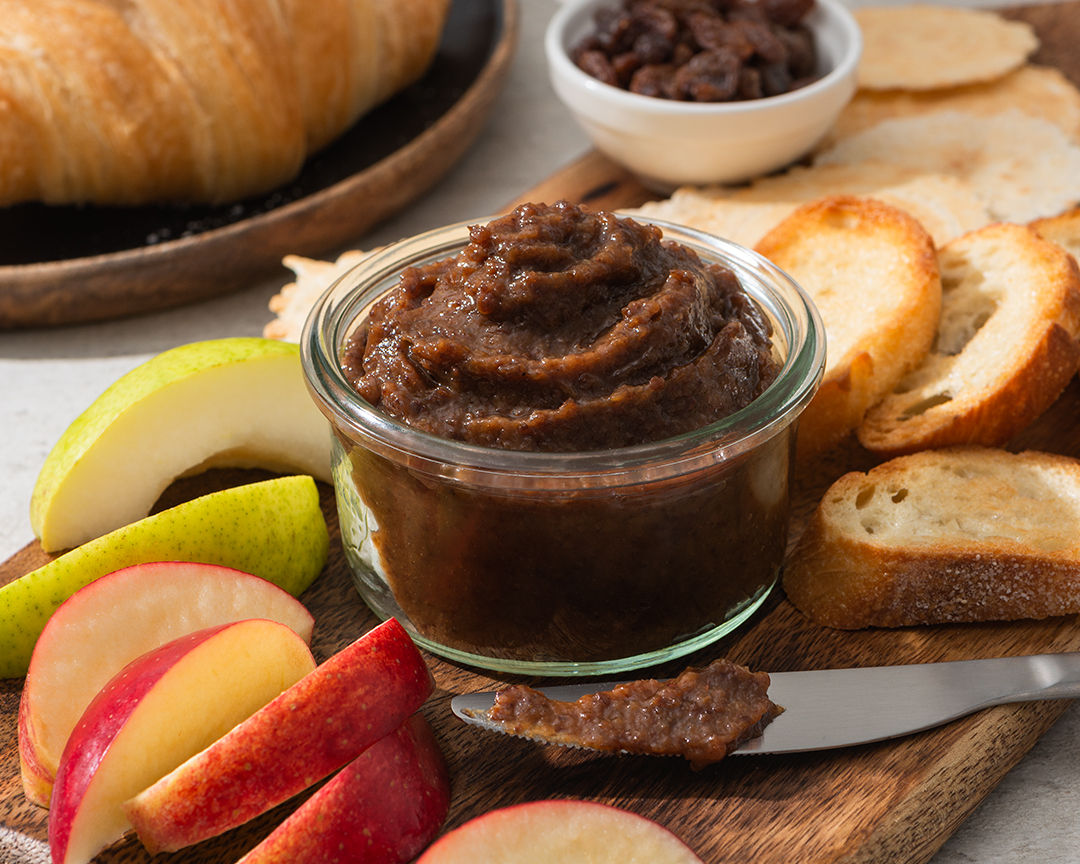 Raisin Pear Butter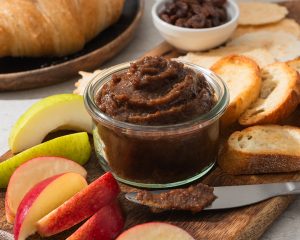 You're about to change the way you think about butter forever! This raisin pear butter is a savoury spread that goes great on almost any sandwich or as a toast topping. And best of all? California Raisins will add potassium and fibre without adding fat or sodium.
Prep Time

10 min

Cook Time

25 min

Total Time

35 min

Yield

2 cups (8 servings)

Serving Size

2 tablespoons

Energy

80 cal
Ingredients
2 pears, peeled, cored and cut into 1-inch chunks
2 cups California raisins
2 tablespoons freshly squeezed lemon juice
½ teaspoon ground cinnamon
½ teaspoon vanilla extract
¼ teaspoon ground nutmeg
Pinch salt
Procedure
1
Total Time: 35 min (+ 30 min standing time) 
Into medium saucepan, add pears, raisins, 1/3 cup water, lemon juice, cinnamon, vanilla, nutmeg and salt; cook, stirring occasionally, and bring a boil. Reduce heat to medium-low. Cover and cook, stirring occasionally, for 20 to 25 minutes or until raisins are plump and softened, pear is very tender and most of the liquid has been evaporated. Let cool completely.  
Transfer to food processor and blend until smooth. Store in airtight container in refrigerator for up to 2 weeks. 
Note: Use raisin pear butter as a sandwich spread. Spread on thick slices of toasted bread. Top with pear slices, dark chocolate chips and drizzle of liquid honey if desired. Use also as a savory spread on grilled cheese sandwiches or ham sandwiches with sharp (old) Cheddar cheese, mustard, lettuce and pickles.   
Nutrition Facts Per Serving

16 servings per container

Serving Size

2 tablespoons

Amount per serving

Calories

80

% Daily Value*

Total Fat

0 g

0%

Saturated Fat

0 g

0%

Trans Fat

0 g

Cholesterol

0 mg

0%

Sodium

10 mg

0.43%

Total Carbohydrate

21 g

7.64%

Dietary Fiber

2 g

7.14%

Total Sugars

15 g

Protein

1 g

2%

Calcium

10 mg

0.77%

Iron

0.4 mg

2.22%

Potassium

200 mg

4.26%