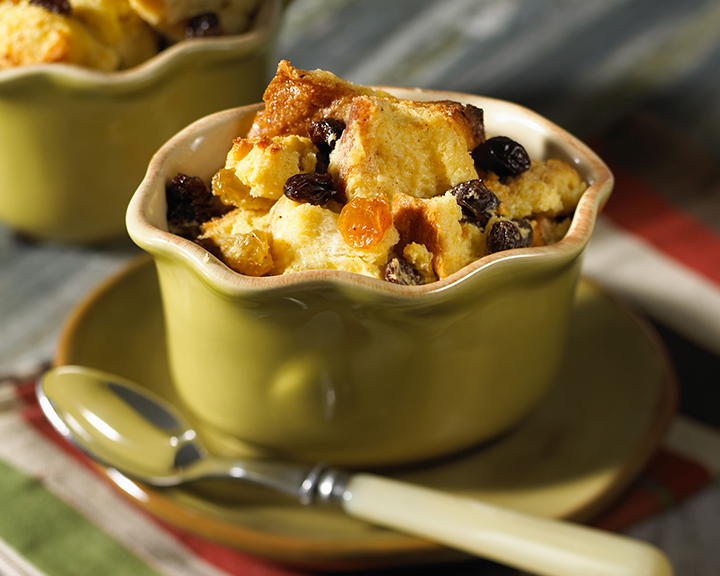 Rum Raisin Bread Pudding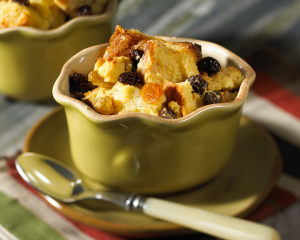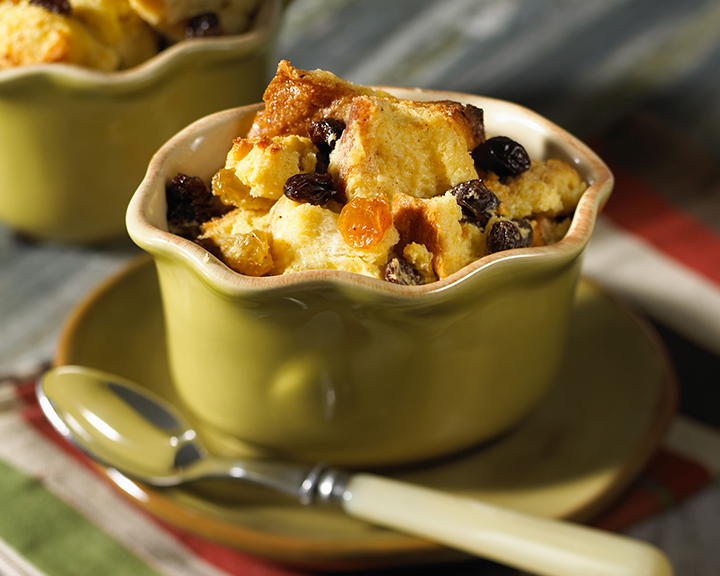 Prep Time

20 min

Cook Time

45 min

Total Time

1 hr 5 min

Energy

290 cal
Ingredients
10 to 12 slices French bread
3/4 Cup California natural raisins
1/4 Cup California golden raisins
21/4 Cups low-fat milk
21/2 Tablespoons butter
2/3 Cup sugar
1 Teaspoon ground cinnamon
1/4 Teaspoon ground nutmeg
1 Teaspoon rum extract
3/4 Cup egg substitute
Powdered sugar; for garnish
Procedure
1
Spray 11×7-inch non-reactive baking dish with cooking spray. Cut bread into 1-inch cubes to yield about 8 cups; spread evenly in bottom of pan and sprinkle with raisins. Set aside.
2
In a medium saucepan, heat half-and-half with butter, stirring until butter is melted. Cool for 10 minutes. In a medium bowl, whisk sugar, cinnamon, nutmeg, rum extract and egg substitute together. Then, slowly whisk in butter mixture until well blended. Pour over bread cubes and toss to coat all. Let stand for 1 hour.
3
Preheat oven to 350°F. Place baking dish with pudding into a larger pan containing 1-inch hot water. Bake for 35 minutes or until mixture is set and sharp knife inserted in center comes out clean. Cool and serve warm, dusted with powdered sugar, if desired.
Nutrition Facts Per Serving

8 servings per container

Amount per serving

Calories

290

% Daily Value*

Total Fat

6 g

7.69%

Saturated Fat

3 g

15%

Trans Fat

0 g

Cholesterol

15 mg

5%

Sodium

310 mg

13.48%

Total Carbohydrate

52 g

18.91%

Dietary Fiber

2 g

7.14%

Total Sugars

33 g

Protein

9 g

18%

Calcium

126 mg

9.69%

Iron

2 mg

11.11%

Potassium

369 mg

7.85%